Monday, 22 June 2020
I think we have definitely hit our wall for lock down, I am feeling no motivation to keep going and so is everyone else. School work is dragging by with concentration declining by the day. We are all looking forward to the beginning of summer, even if we have no idea how that will look or what we will be able to do.
It is very clear that lock down is taking it's toll on us now, I guess in a way we are lucky to have gotten this far. That doesn't make dealing with it easier. The children are all getting more restless, our days begin earlier and energy levels seem to be really high or really low, daily meltdowns are becoming normal for all our children and I know it is is because our daily life is so isolated. We miss our friends, we miss our family and they miss they ability to run free without worry.
In an attempt to branch away from the tantrums and stress we had a day in the yard with water bead play instead of school work. It helped a little, they enjoyed all the play and especially my magic trick to make the beads more transparent. It was wonderful, they were amazed and it was worth all preparation. It's shown me the need for fun, for days without a plan or routine and our real need to spend time doing anything else right now.
We begin our usual summer holiday's from next week and I know for all our sanity we will be venturing out further and more often than we have. We need a day without this much worry and stress. We need a whole day outside our four walls and so far we just haven't had that. Hopefully this coming heatwave will see us outside in the world a bit more.
How have you been coping with lock down?
I am linking up to The Ordinary Moments again this week, be sure to check out the other posts by clicking on the logo below.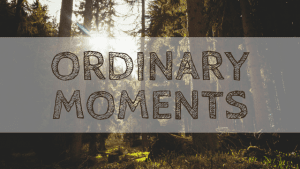 Topics

Archives