Monday, 18 May 2020
This last week involved a long walk which was very much needed for us all, however more so for Scarlet. We all enjoy getting outside and taking time to walk, play and enjoy time together. I feel that we all get different things from being outside but during lock down I have noticed more and more how time outside is used by Dylan and Scarlet.
For Dylan getting outside is most certainly about play and running around, he's never really been one to want to explore a place unless it's a very low hanging tree or similar. Scarlet on the other hand is becoming quite the little explorer, when we have taken time to go for a walk during lock down she wants to explore everything she can.
On our walk this week she wanted to explore and discover what was around us and honestly it's the first time we've had the space to be able to do it since this all began. She was really interested in all the textures and the nature around us as we took a walk around not using the paths to direct us for a change.
She also found great delight in running in any direction she wanted to see something new or interesting, which would probably be a great thing if I didn't have to run after her to make sure she stays away from anyone else using the space too. Hopefully when this is all over we will be able to go out and explore more freely and let her develop her inner explorer too.
I am joining back in with The Ordinary Moments from What The Redhead Said, you can check it out by clicking the badge below.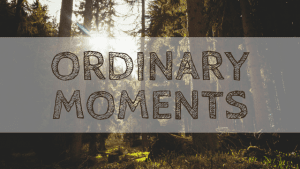 Topics

Archives